Returning to Nature Ganja Yoga Retreat
With Celina Archambault
May 17 - 20, 2019
Open your heart and return to nature…
You are invited to return to yourself and nature in a healing 3-day retreat in the pristine Kootenays of Kaslo, BC May 17-20th 2019.
This retreat is for those wanting to recharge their batteries and come back to connecting to within. The retreat will be a balanced blend of gentle yoga and mindful movement, meditation, ceremonies, nutritious foods, nature walks, lake and forest time, music, and lots of free time to do what you please (kayaks, an outdoor hot tub, and a cozy bed await you)
The retreat will be elevated and enhanced with options for a variety of plant medicines. Cannabis will be offered as an option in different doses and varieties within a ceremonial setting in the cedar maloca. It is not mandatory to have any Cannabis, however, if you have never experienced Cannabis in a ceremonial setting, this is a powerful way to learn how to work with it to come into deeper states of consciousness. Some other plants that will be weaved into the magic will be Cacao, Sweetgrass, Blue Lotus, Mopacho, Sage and Palo Santo. 
Farm to table chef-prepared meals (some of it grown organically the land) will be shared on the patio overlooking the mountains and lake. Rooms are extremely comfortable with a variety of different sizes and options to share or tent is also available.
More info to come soon…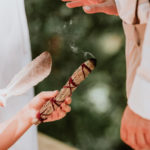 Teacher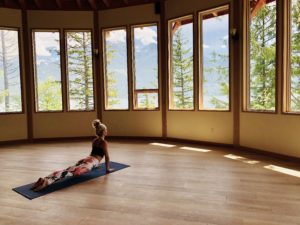 Celina Archambault
Yoga Style: Intuitive Yoga Celina has had a strong relationship to healing and plant medicine for as long as she can remember. After taking part in a variety of different plant medicine ceremonies, she felt it was her turn to share the knowledge of what the plants and ceremonies are capable of with her community. She began offering ceremonies of her own as well as co-organized the largest plant medicine conference in Canada, The Spirit Plant Medicine Conference from 2015-2017. Celina travelled to Bali, Indonesia where she became a certified yoga teacher at The Mystical School Of Yoga Teacher Training.…
Learn more about Celina Archambault