Mountain Flow
With Julia Dujmovits
March 8 - 16, 2019
Share your spirit, meet awesome people, reconnect to nature. Feel the fascination of riding

 lines you always dreamed of. 
Live for the moments you can't put into words. Strap on your snowboard or skis and connect to the beautiful untouched nature of Canada. Your day begins with flow yoga. Enter the state of mental excellence. Use mental techniques to align snowboarding and skiing flow to your daily life. Recharge your mind, body and soul with a week of extraordinary experience.
Lead by the amazing Julia Dojmovits, Olympic Gold Medalist, Coach, Trainer, Yoga Teacher,  Alpine and Freestyle Instructor.
Don't miss this incredible opportunity to connect and tap into Julia's wisdom and experience.
* Take your riding, yoga and mental state to the next level. We are sharing excellence and our passion.
* Ride the best lines of your life.
* Powder smile guarantee.
* Learn coaching techniques to use in business and daily life.
* Set goals that scare and excite you at the same time.
* Video download: goal setting/ mental coaching program in a vinyasa yoga flow sequence.
* Get ready to recharge your body/ mind/soul.
LOCATION
Stellar Heliskiing is located in the charming mountain town of Kaslo, British Columbia. Situated on Highway 31, along the western shoreline of Kootenay Lake, Kaslo is surrounded by the mighty Purcell and Selkirk mountain ranges. Known for its relaxed atmosphere and friendly people, Kaslo is the perfect place to kick back after a full day of powder skiing.

TERRAIN
When someone mentions Kaslo, British Columbia, they do so with a hushed voice. 'Kaslo?', they say. 'I've heard of Kaslo… Isn't the skiing there supposed to be legendary?'. The whole conversation is said through whispers, as if letting each other in on a well-kept secret.
Known as the powder skiing and boarding mecca of British Columbia, the Kootenays are known for their laid-back vibe, friendly people, and an uncontainable love of mountain culture. Just one hour north of Nelson, our base in Kaslo is surrounded by the famous Selkirk and Purcell mountain ranges, an area revered for having some of the best skiing in the world.
Seeing over 18 meters (60ft) of snowfall each year, the snow we ski is some of the deepest and driest in the world. With terrain rising to over 3,000 meters, our guests are able to ski open bowls, high alpine peaks, and magnificent old growth forests that are suited for everyone, whether your a first-time backcountry skier or expert powder rider. All of this terrain is just a short helicopter ride away!

ACCOMMODATION
Escape To An Enchanted Oasis, The Sentinel. Settle into our luxurious accommodation experience, offering you access to an on-property hot tub and sauna, spacious sunroom, majestic Maloca roundhouse for yoga, comfortable dining area and more. Rooms are double occupancy with a shared bathroom, lake view.
Leader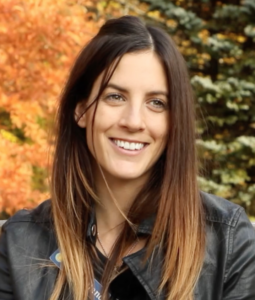 Julia Dujmovits
Athlete. World Traveler. Snowboarder. Olympic Gold Medalist. Adventurer. Explorer. Yogi. Kiter. Surfer. Austrian. Maui lover. I grew up in the most eastern part of Austria among the vast flatland with wineries, where there are no mountains, no skiing, and no snowboarding.  Many people were quick to point out why a gold medal in snowboarding could never happen. But ONE feeling drove me forward. PASSION. Being on the edge of a cliff with my snowboard in Alaska, standing in the start gate at the 2014 Olympic finals and letting go… that's what I call flying. A deep inner trust to let…
Learn more about Julia Dujmovits