Somatic Therapy Training
With Sasha Cuff
September 22 - 28, 2019
Somatic Therapy Training Ahimsa Community of Therapeutic Practice (ACTP). Trauma Resolution and Relational Repair
This is a 2-part workshop taught in two 6-day modules, participants must attend both modules. Sept. 22 – 28th 2019  &  October 27th – November 2nd 2019
With the foundation of somatic therapy teachings supporting each class, the student will learn: 
Creating safety, set and setting, holding the container

Negotiating and providing safe touch

Repairing boundary violations

Working with implicit imprints, including preverbal imprints

Treating Complex trauma – layer by layer approach to resolving attachment, developmental, and shock trauma complexes

Relational Repair
Learning Objectives:
6 Essential Competencies of Therapists (Phelps, 2017)

Ethics and safety

Attunement, resonance and entrainment

Attitudes that foster

empathic abiding presence

Cultivating non-judgment

Empathic listening

Building resource and resilience

Therapeutic use of music

Non-directive therapy – allowing the inner healer to lead

Working with shame

New information – working with implicit imprints and the biology of neural patterning

Working with transference and using corrective experiences to re-pattern belief systems and implicit expectations

The body: movement, safe touch and containment

Polyvagal theory

Resolving fight, flight and freeze/shutdown: repairing the survival biology

Relational repair

Resolving fear

Working as a co-therapy team

Integration and ongoing support
Application Process: If you feel the called to this work and these workshops, please download and fill out this application form and send it to communityahimsa@gmail.com. Once your application has been reviewed, and you have been accepted into the course, you can then send a $500 e-transfer as a non-refundable deposit to secure your spot in the workshop. 
Location:  The Sentinel Retreat Centre, www.sentinelbc.ca  near Kaslo BC.  All of the meals, from dinner on the first day, to lunch on the last day are provided.  All bedding and towels are provided.
Due to the in-depth experiential nature of the work we require that all participants commit to staying at the retreat centre from check-in of the first day morning to 1:00pm on the last afternoon. Arrival and check-in times for both retreats is between 3:00-5:00pm on the first day.  Both courses end at 1:00pm on the last day after lunch.
The closest airport to the retreat centre is in Castlegar BC.  There is a shuttle from Castlegar airport that will bring you to Nelson (called Queen City Shuttle).  From Nelson we will pick you up and shuttle you to the retreat centre. Please contact us for carpooling and transportation options.
Please download and fill out this application form and send it to communityahimsa@gmail.com to begin application process.
Leader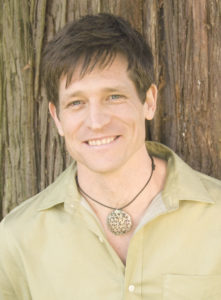 Sasha Cuff
Mr. Sasha Cuff is a Registered Therapeutic Councillor (RTC) and a Certified Relational Somatic Therapist with 17 years of clinical experience in health counselling and continuing education in the healing arts. His earlier education and practice emphasized energy psychology and counselling. His current psychotherapy practice weaves somatic, transpersonal, and shamanic principles into a holistic offering that facilitates deep relational, developmental and shock trauma resolution. Sasha teaches workshops and facilitates group healing endeavours. He is passionate about attachment parenting (a dedicated father of 3 boys) and promotes it as an essential ingredient for resiliency and health across the lifespan. Sasha now…
Learn more about Sasha Cuff