Holistic Hunting Weekend
With Bob Yetter
March 30 - 31, 2019
"Animals are our food, they are our thoughts" -Claus Chee Sonny, Navajo
And so animals will be our thoughts as well throughout the weekend along with some field trip outing(s).
I cannot, in anyway related to "good-conscience" offer my thoughts and experience on hunting by only covering the mechanical or practical aspects of the matter. There is so much more that takes place, if one chooses to give attention to it. To leave out the spiritual aspects of this most significant act would be a disservice to the deer, to you, and to myself. So, I will give equal time to each to practical skills and the deeper aspects of killing to live.
"The greatest peril of life lies in the fact that human food consists entirely of souls"
-Ivaluardjuk, an Igluluk Eskimo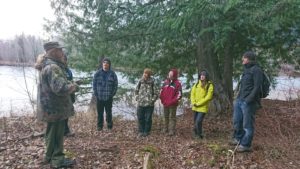 Course Fee is $100
(Includes two full days and an optional evening of instruction around a campfire)
Please bring your own meals (Kitchen provided)
Overnight accommodation is available at sentinelbc.ca (camping, private or share rooms)
Basic Course Outline (4 Sessions):
Session 1
Remembering who we are: Humans as hunter/gatherers for 99% of our existence
"I'm just a human being trying to make it in a world that is very rapidly losing its understanding of being human." – John Trudell,
In this first session we will spend an hour discussing the role of hunting in human evolution and development and how it is revealed and expressed through the worldviews and practices of hunter/gatherer cultures. We'll break for ten minutes and continue with practical skills including woodsmanship, hunting gear, personal fitness, and shooting confidence, among others.
Session 2
Modern humans: Off the course of our own "true path"?
"In every civilized man was a pagan waiting to come out, who really believed in the gods of the mountains, and in appeasing the spirits of dead game". -Tom Clancy
In this second session we'll look at how hunting and gathering behaviors and attitudes continue with us in modern life, and how the lack of an authentic relationship with nature has changed us. We'll continue with skills and practical knowledge related to habitat, hunting strategies, animal signs, how to move and conceal yourself, and related in-the-field practices.
Session 3
Breaking trail: Clearing the way for a new way of being with the world
"It is no measure of health to be well adjusted to a profoundly sick society" – J. Krishnamurti
Here I want to look at some of the myths and behaviors that might keep us from establishing a new outlook and relationship with the other-than-human-persons with which we share this life, and this planet. Our practical and skill-oriented second hour will now progress on to the killing of an animal – including where to shoot, buck fever, the decision and "the moment", tracking, field dressing, and transporting.
Session 4
Making it personal: Coming to terms with killing, seeking a spiritual hunting ethic
"When one loses the deep intimate relationship with nature, then temples, mosques and churches become important." – J. Krishnamurti
This is the heart of the matter. How do we, as modern humans, make our way to a deeply felt and genuine relationship with the things we eat. How can an act which our culture normally views as violent be transformed into an act of love? (Okay, I don't claim to have cut and dry answers here, only a continuing desire to make my way towards such a place, and a few thoughts that might help you on your way). We'll end the final day with practical subjects related to aging meat, skinning, butchering, a bit on hide tanning, some discussions on "sportsman" ethics, and animal and habitat conservation
Field trip/hands-on component:
1) We'll go out and look for deer sign, find some blinds, learn to walk, rattle for bucks, talk about habitat, etc
2) If time allows, we can do a brief overview of a basic hide tanning session.
Leader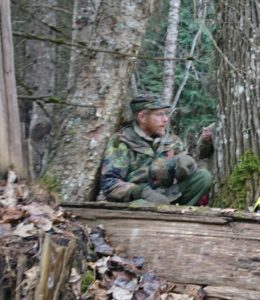 Bob Yetter
Bob Yetter worked as the Assistant Director of the University of Montana's Wilderness Institute, from 1989 – 1999, overseeing their interdisciplinary outdoor program, "Wilderness and Civilization."  He moved to the north Kootenay Lake area in 1999, and now teaches "Holistic Hunting":  A 16 hour course exploring the practical and philosophical aspects of hunting, with an emphasis on the spiritual responsibilities of taking life to sustain life.
Learn more about Bob Yetter