Energy Healing of the Self
With Ella Raganbold
July 19 - 20, 2019
Do you ever feel lost about life, discouraged, uncertain of your path, stuck on point A and can't figure out how to get to point B, or like you're trying so hard to push forward but that you're just spinning your wheels?
Imagine a world where you are in line with your intuition, you are confident, life flows effortlessly and abundantly and you make healthy choices that serve your highest self.
Join Ella Raganbold of Pink Opal Dreams for a two day weekend learning the basics behind Energy Healing of the Self!
This workshop is perfect for the individual who wishes to take charge of their personal journey and learn tips and tools to heal and empower their body, mind, and soul on a daily basis.
Learn simple new techniques and habits you can incorporate throughout your day to assist in creating a life of joy, ease, and glory.
You will walk away from this workshop with a new perspective and optimism on life, you will feel at peace and rejuvenated, you will have the resources needed to confidently go forth and create the life of your dreams.
During our two days together you will be assisted through meditation and shamanic journeying to go within, release what no longer serves you, and then to be lovingly guided to visualize the reality you desire to create. With this vision in mind, you will then be gifted all the resources needed to ground this vision in the 3D reality from self-healing techniques to personal chakra balancing, intuition training, pendulum work, energy clearing, affirmations and more.
You will go home with worksheets and charts to assist in these techniques, your own pendulum, a renewed sense of self and more.
Ticket cost covers all the training and resources as described along with a nutritious lunch, dinner and snacks on Saturday, July 20th. (Vegan and Gluten Free options are available, please let us know your preferences in advance.)
Accommodations are not included but can be booked through The Sentinel directly if desired. Use the discount code, "Create"  for a 10% discount off any room, book here: Room Booking.
Leader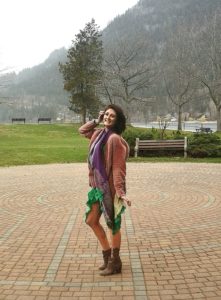 Ella Raganbold
Ella Raganbold of Pink Opal Dreams is a Master Reiki Crystal Healer and Shamanic Practitioner who has been practising and utilizing energy and journey work since she was a child. Over the last 5 years Ella has been honing her craft into a multifaceted healing business incorporating many ancient and modern modalities to bring you a truly unique healing experience to unleash your body and soul's highest potential. Ella now travels across BC offering private treatments and leading guided workshops and healing ceremonies, she maintains her home in Castlegar, BC
Learn more about Ella Raganbold