Heart Yoga Retreat
With Karuna + Paul Erickson
August 17, 2019
We invite you to join us for a heart-centered yoga retreat with Karuna & Paul Erickson (www.yogakaruna.com). You will nourish yourself and deepen your practice of yoga with a gentle flow of asanas, while listening to the wisdom of your body, mind, heart, and spirit. By connecting more deeply to your inner alignment, you will awaken to the exquisite beauty of your true nature. Through noticing and releasing old habits of body and mind, you will return to the guidance of your heart's inherent qualities of unconditional love, kindness, compassion, joy, and equanimity.
In this daylong retreat, we will experience our natural stillness and ease. Deep and gentle yoga and meditation practices will guide you to this peaceful place inside, beyond the busyness of daily life, where you can rest and savour the sweetness and ease of simply being.
This retreat is from 10am to 5pm.
You can bring your own lunch or their will be a group burrito order from the Bluebelle Bistro in Kalso.
To book a room during this retreat click here.
Leader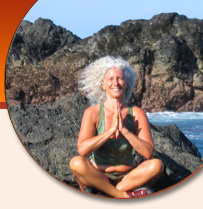 Karuna + Paul Erickson
Karuna Erickson is a devoted yoga teacher as well as a psychotherapist who has been teaching yoga and training teachers for over 40 years. She is the co-author with Andrew Harvey of Heart Yoga.  Paul Erickson is a certified meditation and yoga teacher, a psychotherapist, and the co-director of the Heart Yoga Centre, which offers 200-hour yoga teacher trainings at the Sentinel as a Registered Yoga School with Yoga Alliance. They teach workshops, yoga teacher trainings, and retreats internationally. For more info: www.yogakaruna.com "Karuna is delighting us with her authentic and intense inquiry into spirit. Her yoga is inspiring!" –…
Learn more about Karuna + Paul Erickson