Deep Play Retreat – Ron and Odette
With Odette Slater and Ron Radar Stelting
July 27 - 30, 2020
The deep play of creativity and healing through dance, drumming, and Nature. 
Rhythm, movement, and meditation are tools we will develop and explore with rigor, humour, and devotion to delve deeply into our most divine state, where self-knowledge and healing can occur. Participants will take home embodying energizing practices and experience touchstones of awareness that will enrich their artistic expression no matter what medium they choose to work in.
Take advantage of this rare opportunity to spend time with Odette and Ron while they share their experience and knowledge of Yoga, Dance, Drumming and Mantra.
Ron and Odette are elders in their chosen disciplines and have been working, playing and teaching together for over twenty-five years. The real meaning of Yoga is "to renew". This retreat will help you renew the Self through movement, music and meditation.
VISION:
To discover freedom and self-expression through drumming, movement, voice and nature.
To develop a consistent authentic practice of yoga and drumming.
Create clarity and tools for community building.
Empowering Enlivening Energizing
TAKE HOME:
Belonging. Sense of community. Confidence to have fun, be fully self-expressed, spontaneous.
Tools and techniques for playing hand drums.
Sanskrit Mantra initiations. You will take home 2-4 Sanskrit mantras that will be etched into your mind forever.
Chakra balancing tools and techniques.
Develop confidence in establishing a deeper movement practice.
Introduction to West African Rhythms
EXPERIENCE:
Time for personal processing and reflection through journaling walks in nature, workshops and any other means your heart desires.
Acknowledge the ancestors and keepers of the land
Pranayama and Mantra Meditation Sessions
Drumming Classes
Body Percussion
Facilitated Community Drumming
Yoga Asana Classes with live musical accompaniment
Soundbath with Crystal Bowls
Earth Dance
Play From Your Heart
Leaders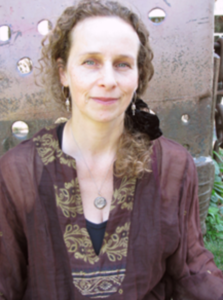 Odette Slater
Odette is a certified Pilates and Yoga instructor and has been practicing and teaching body-centered movement and healing disciplines for over twenty-five years. She possesses extensive knowledge in the systems of Pilates and Ashtanga Yoga as well as other movement modalities. She completed a BA(HONS) in Contemporary dance from The Place (London, England) in 1988 and continued to pursue her career in modern dance until 1996 when a severe injury sent her in the direction of healing and then teaching. Odette has also explored the realms of Aikido, West African Dance, T'ai Chi, BodyMindCentering, Developmental Movement Patterns, Ideokinesis, Alexander technique,…
Learn more about Odette Slater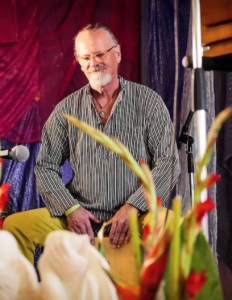 Ron Radar Stelting
Ron Stelting  www.yogadrum.ca  Performer, Musician, Facilitator, Accompanist  Ron would like to acknowledge a few teachers: Babatunde Olatunji, Arthur Hull, Joseph Pepe Danza and Swami Muktananada.  Ron has been accompanying Dance for over 20 years now, including Modern classes, Ballet classes and Traditional West African classes and is one of the most in demand accompanists in Vancouver. He has spent over fifteen years at SFU as well as over 5 years at Arts Umbrella and Main Dance, respectively. Ron has facilitated rhythm events around the world for thousands of people. Some highlights include Deepak Chopra meditiation retreat in Whistler with 500…
Learn more about Ron Radar Stelting