Awakening to Joy — a Day of Yoga & Meditation
With Karuna + Paul Erickson
January 4, 2020
Greet the new year by awakening to the joy, love, compassion, and ease which are inherent qualities of our heart. The practices of yoga and meditation offer pathways to connect with and return to these essential qualities of our true nature.
The ancient yogis taught that the deepest essence of life is joy. They explain that "From joy all things are born, by joy all things are sustained, and to joy all things return. This is the highest teaching."
Yet, in the busyness and stress of our daily lives, we often lose connection with the joy of life and may feel overwhelmed, anxious, and separate. Through gentle yoga and simple meditation practice, we can experience the joy and peace of simply being, and rest in the compassionate love that holds us all. We hope you can join us for this day of renewal, reflection, and reconnection. All levels of experience are welcome.
We're delighted to host Karuna & Paul Erickson to The Sentinel, our warm and welcoming centre on the shore of Kootenay Lake between Ainsworth Hot Springs and Kaslo. The incredible beauty and spaciousness of the surrounding mountains, forests and lake is deeply inspiring and nurturing. You may wish to stay overnight or for the weekend and enjoy our comfortable accommodations, hot tub and sauna. For more information give us a call (250-353-2246), book here, or contact us at gm@sentinelbc.ca.
When: Saturday, January 4, 10am-5pm
Where: The Sentinel www.sentinelbc.ca
Cost: $95 ($85 if paid by Dec 15)
To register: e-transfer to Karuna at erickson@netidea.com
Delicious lunch available for an additional fee or bring your own.
Leader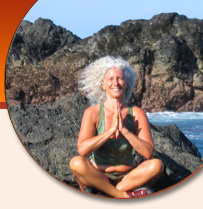 Karuna + Paul Erickson
Karuna Erickson is a devoted yoga teacher as well as a psychotherapist who has been teaching yoga and training teachers for over 40 years. She is the co-author with Andrew Harvey of Heart Yoga.  Paul Erickson is a certified meditation and yoga teacher, a psychotherapist, and the co-director of the Heart Yoga Centre, which offers 200-hour yoga teacher trainings at the Sentinel as a Registered Yoga School with Yoga Alliance. They teach workshops, yoga teacher trainings, and retreats internationally. For more info: www.yogakaruna.com "Karuna is delighting us with her authentic and intense inquiry into spirit. Her yoga is inspiring!" –…
Learn more about Karuna + Paul Erickson