Woodworking – Meditation Bench from Concept to Completion to Contemplation
With Arnt Artnzen and Valerie Arntzen
May 31 - June 4, 2018
Engage your imagination, develop an appreciation for handcrafted woodwork and be immersed in the meditative process of building and creating with your hands. Taking you far away from the tech-driven informational world, this therapeutic experience gives you to the opportunity to slow down and find inspiration in the beauty of Mother Nature.
Led by Arnt Arntzen and assisted by his wife, Valerie Arntzen, this experiences reconnects you with traditional ways of building and creating.
For over 30 years, Arnt has built inspired sculptures and furniture from found metal and wood pieces, many of which were sourced straight from his wild west coast surroundings. Val, a collage and photography artist represented worldwide, shares Arnt's fascination with recycled materials, and loves to bring to life unique stories through hands-on creation.
In this immersive 3-day (4-night) experience, you will be collaborating with the rest of the group to build from scratch a beautiful meditation and lake-viewing bench.

Giving you the opportunity to collect and use natural materials from your surroundings, this experience invites you to explore the corners of your imagination and find potential in hidden places.

Engage in traditional ways to create and feel the powerful flow of meditative and therapeutic energy that emerges from building with your hands.
Leave with an understanding of the intricacies involved in putting together handmade furniture, as taught to you by masters in the field.
Located next to the serene shores of Kootenay Lake, this experience takes place within an invigorating, magical and mesmerizing environment. Find beauty through hands-on creation, and find comfort away the technology-driven world.
A Transformative and Traditional way to Create
Teachers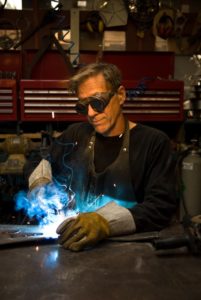 Arnt Artnzen
Sculptor And Woodworker Arnt's work can be seen here: Arntarntzen.com I have been designing and building furniture and sculpture for almost 30 years. My studio is in Vancouver, BC. My designs are influenced by my surroundings, the wild west coast and the abundance of wood and found metal objects. The wood is hand cut by myself from windfall trees in and around the city of Vancouver. Many of the metal objects are aircraft parts such as propellers, helicopter blades and wings. Most of my material is recycled. Joining found objects with large slabs of wood has forced me to innovate…
Learn more about Arnt Artnzen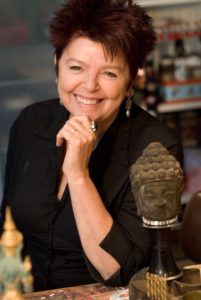 Valerie Arntzen
Collage Artist And Photographer My art practice is primarily the assemblage of collage and photography as other mediums. I live and work in Vancouver, BC and have been an artist for 30 years. Other cities I have lived and worked as an artist in are Los Angeles, California for 2 years and Amsterdam, Holland for 6 months on self-directed residencies. I have shown my work in Vancouver, Los Angeles, New Zealand, Brazil, New York, and various towns in British Columbia My work is in private collections in Holland, New York, Santa Fe, Vancouver and Museums in Belgium, Bulgaria, New Zealand,…
Learn more about Valerie Arntzen